Eagles roll past Comets at Homecoming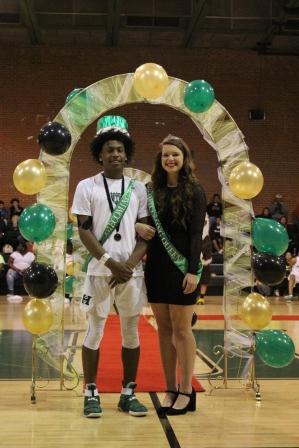 Hang on for a minute...we're trying to find some more stories you might like.
With students dressed in green and white and past alumni coming to cheer, both basketball teams had a successful Homecoming against ASTEC last Friday.
The boys won 65 to 32.
"We did good this season," said sophomore Cayman McKinney. "Some of our disadvantages have been some of the players being ineligible so they couldn't play and then height. We're not a very tall team."
After rolling her ankle during the last half of the 4th quarter, captain Payton Langley was unable to pay for the remainder of the game. Despite this, she was able to recover and take the crown as Homecoming Queen alongside boys' captain Brannon Dean as Homecoming King.
The girls brought in a win with a score of 60 to 20.
"I feel like we played great," said freshman Ky'arra Crigler. "We played together as a team even though we're losing people. We're still working it out."
The girls' team makes it a great priority to come together as a team throughout the entire game, instead of playing individually. They have noted this as one of their struggles during the season.
"We're like a group of sisters. Each generation is different. The juniors mimic whatever Payton does then the freshmen and sophomores just look up to them," Crigler said.
After the final home game tomorrow, both teams will play at districts but if they do not advance there, the season will officially come to a close.
With the end of the season, the girls will lose Langley to graduation and the boys will lose a majority of their team.
"I'm kind of sad honestly. We've been playing good lately. This is the last time we'll get to see Payton on the court," Crigler said.
McKinney depends on the seniors for guidance in the sport itself and things outside of it as well.
"I grew up with Meli [McKinney] and Brannon [Dean]. I look up to them and they always help me. They help with grades and just life in general. Like they help me make better choices," McKinney said.
Although it may be tense at certain times, the bond is what drives the basketball teams to success.
"Sometimes we don't like each other," Crigler said. "But we always have each other's back."
The last home game is Friday, Feb. 10 at 6 p.m. and 7:30 p.m. There will be senior night festivities honoring the graduating members of the basketball teams and cheer team.