Introducing the golf team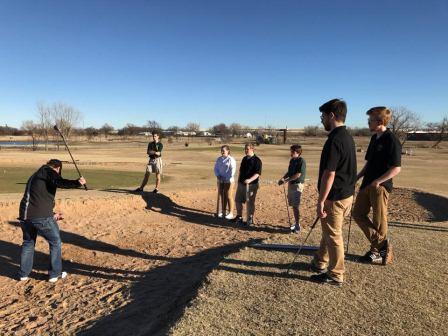 Hang on for a minute...we're trying to find some more stories you might like.
After years five years of playing golf without a team, freshman Sean Dobson decided it was time to finally make one.
"I didn't have one in my middle school and all during middle school I was like 'Okay, once I get through middle school, I'll be able to play golf in high school,' and I wanted to attend Harding anyway and thought if the school didn't have one I would just start it," Dobson said.
After being sponsored by foreign language teacher Joshua Higginbotham, HCP welcomed the golf team to its list of clubs and organizations.
The club currently has eight members including: Eric Davidson, Dobson, Alessio Hall, Isaiah Gilley, Grayson Ware, Grant Webster, Liam Whitbeck and Sailor Whitbeck.
"With it being the first year, the team seems like a good turnout, but hopefully more people will join next year," Dobson said. "The team is always welcoming to new members and encourages all who think about joining to do so."
The team practices at The First Tee Metropolitan with Coach Dustin Semsch.
Semsch teaches each player skills that can help improve their overall golf technique.
Practices take place everyday after school except on Thursdays.
Although the golfing season is not in full affect yet, the team is expected to attend their first tournament March 1. They have also been invited to a second tournament that will take place on March 23.