History department welcomes new AP government teacher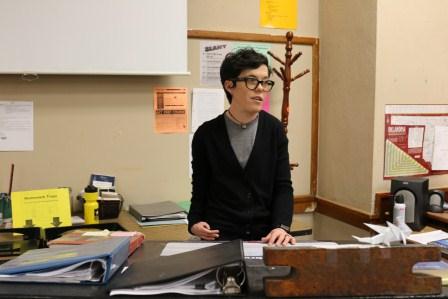 Hang on for a minute...we're trying to find some more stories you might like.
After John Tipsword left Harding Charter Prep due to poor health, the administration hired Jacquelyn Musgrove to teach AP Government and Psychology for the rest of the semester.
Musgrove saw a career posting for a long term AP Government substitute teacher and was interviewed by the administration before being hired. She hopes that she will be able to stick around school next year because of her passion for education.
"I always had an interest in education. I coached a competitive rock climbing team for the past nine years. A lot of my students on the team came from this school. My favorite group of kids on the team have always been the high school kids so the interest in teaching spurred from that," Musgrove said.
Her first two years of college were spent at the Kansas City Art Institute where she earned a degree in photo and new media. She then attended Adam State University in Alamosa, CO and graduated with a bachelor's degree in sports and exercise management. After graduation, she worked a wide array of different jobs before coming to HCP.
Her past jobs included: volunteer management at ESPN for the winter and summer X Games, Outdoor columnist for The Oklahoman, audio and video producer for News OK, social media at Funnel Design Group, Public Relations at Science Museum Oklahoma and PR and Marketing at Schlegel Bicycles.
But her diverse resume doesn't mean that she has no free time. She enjoys mountain biking and serves on the board of Oklahoma Earthbike Fellowship, which takes care of all bike trails in Oklahoma. She also enjoys backpacking with her husband and son.
"I've always wanted to adopt. We just never felt the strong desire to have our own biological children when there are hundreds of children in the US that are looking for homes. We adopted our little boy Max when he was two days old.
Max was adopted through Gladney Adoption Agency in Fort Worth, Texas.
"The birth moms actually pick the families. You have to make a scrapbook about yourself and they give these books to expecting birth moms [who] go through the books and pick out the ones they think are interesting. She picked us and asked to meet us. Then coincidentally she had the baby that night and called the next day and asked if we wanted to be his adoptive parents."
As a parent and a teacher, she wants her students to succeed and wants them to know that they can do anything.
"The senior class is on the cusp of exploring the world. Whatever you think you're going to be today, in college or your careers, it's totally OK to change. I went into college thinking that I was going to be a videographer, a photographer, and that morphed into public relations and then a desire to get into education. [If] you're 18 and you pick a plan, it's OK if it changes."