Students in HCP speech and debate advance to state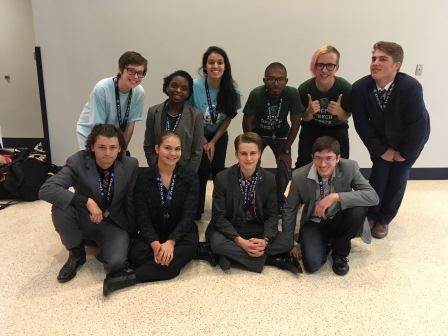 Hang on for a minute...we're trying to find some more stories you might like.
HCP Speech and Debate took a big win at the West Oklahoma Speech & Debate Regionals. Among these students, 11 are taking 15 events to State Apr. 6.
Among the students placing in original oratory is Camila Gonzalez. Her original oratory "I'm Scared," placed Gonzalez 7th. She spoke about general fears that she has.
"When I saw that I made it to State posted on the wall at regionals, I was pretty much in shock. When I performed my O.O. I didn't think it was that good. The fact that the judges thought it was good was really surprising," Gonzalez said.
Some advice she would give to future students making it to state is to be confident in their piece.
"The thing with O.O. is you write it, so a lot of people improvise their speech if they forget. The best O.O.s are the ones where you perform it consistently and you know what you're talking about," she said.
ViaFaith McCullough placed 4th in poetry as well as 5th in Original Oratory.
It's McCullough's second year making it to state. Last year she also placed in Original Oratory.
"I think last year I felt a lot more prepared than I did this year," she said.
This year, McCullough's speech focused on the political division in America. Her poetry piece focused on the societal views on women. She collected poetry showing how society tries to contain women and how they're given their value based on how they look and talk.
"I didn't think I could make it to State with poetry, honestly," McCullough said.
If she was given the chance to come back next year, she would want to do a speech over the criminal justice system.
"I try to let everything I do embody my spirituality and my culture. Everything comes to me when I'm trying to sleep and I have to get up and write it on a piece of paper, " she said.
McCullough's advice to future students is to keep trying.
"Just because you think the opportunity closed for you one time, you're wrong. You just have to keep persevering," she said.
Josh Kimbrough placed 6th in Monologue.
"As my first year doing speech and debate, it's pretty exciting," Kimbrough said.
Monologue consists of a dramatic and a humorous piece.
For Kimbrough, the dramatic speech was about a man being a drag racer and accidentally killing his wife and son. His humorous speech centered around a teenage boy with a big ego.
"I've been using this piece since last semester, now I have developed my character and it comes natural now," he said.
He feels more confident now than he did at the beginning of the year as he started putting in more effort and preparing himself more before competitions.
"At Regionals, I felt more confident," he said. "There's always next year. Always put in effort and think about something you can improve on."
Here is the full list of the students placing in different categories:
Students placing for original oratory: Camila Gonzalez, 7th; ViaFaith McCullough, 5th; and regional champion Nikita Lewchuk.
Students placing for domestic extemp: Maddy Fresonke, 4th.
In Foreign Extemp: Alex DeShazo, 8th; Jake Lange, 7th; Kale Henning, 4th; Nikita Lewchuk, 3rd; and Regional Runner-Up Mark Mayes.
In Poetry: ViaFaith McCullough, 4th.
In monologue: Aanahita Ervin placed 7th and Josh Kimbrough 6th.
In Policy Debate: Kale Henning and Maddy Fresonke placed 4th
In Lincoln-Douglas: Jake Lange, 8th; Conner Mulvaney, 4th.