New life in the halls: new and returning students
Hang on for a minute...we're trying to find some more stories you might like.
The school welcomed some new students and returning students following the conclusion of winter break.
Junior Sean Dobson and Sophomore Deepika Staraman returned to the school in January, after trying out a year or two elsewhere.  

Dobson left last year to attend the Oklahoma School of Science and Mathematics (OSSM) after his parents encouraged him to move in preparation for college, but he said he found the experience at OSSM very different from Harding, and decided to return after a year.
"We lived on campus; there was a lot less freedom," Dobson said. "The classes were harder. I really liked the people there. The classes – not too much."
After one semester at OSSM, Dobson realized that their STEM-focused curriculum wasn't quite right for the business-oriented future he had in mind.
"I'm excited to be taking more relevant classes. I felt like taking uselessly hard classes was pointless," Dobson said.  "I'm taking business foundations now, and I think that's going to be interesting and relevant to what I want to do in the future."
Sitaraman left for San Ramon, Cali. last year for a family emergency, but came back for the education and academics.
Her west-coast school was "all about grades," she said. "The teachers didn't really teach."
Sitaraman is looking forward to the AP courses, teachers and friendships now that she's back.
In addition to the returning students, three new juniors and one freshman joined the school: Adrian Jimenez, KeyKey Masters, Dayja Hurst and Caleb Ridenour respectively.
Jimenez previously attended Bishop McGuinness, but moved here to disassociate himself from the "clique" nature of his old school.
"It was very hard to get around and know people because people have their circles. When I first got to this school everyone was accepting and the school was pretty inviting," he said.

Jimenez made the decision to come here due to location, previous connections, and diversity. "I knew some people here and was told a little bit about it. So I was like 'why not?'" he said.
Jimenez is optimistic about what lies ahead in the upcoming months. "Since I've been here I've definitely noticed the harder classes. It's got a pretty high standard and I bet it weeds people out pretty quick, but I'm excited because it's better for me in the long run," he said.

Masters and Hurst, both juniors, previously attended Douglass High School. 
"It was my mother's decision," Masters said. "Ultimately I decided that it would be best for my education."
For them, the change in atmosphere was drastic. "The atmosphere at Douglass was very caring, and very social. Coming here everyone was quiet and no one can have fun," Masters said. 
Ridenour, a freshman, previously attended Edmond Memorial, and said that academics took a back seat to extra curricular activities at Memorial. He said he's looking forward to more academic rigor at Harding.

"They just did not have as much homework or anything like that. You weren't really active in that school in terms of curricular wise. It's been harder here but it's been a good change," he said.


About the Writer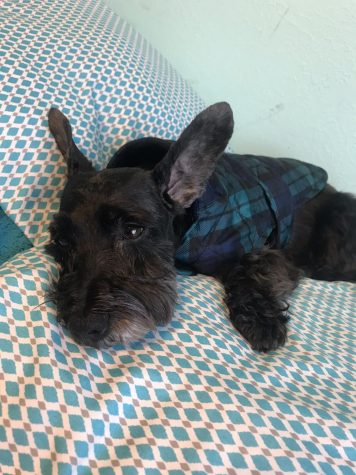 Camryn Anderson, Reporter
My name is Cam Anderson and this is my first year on the news staff. I'm a junior and have always had an interest in news and am trying it out. I was...